Building Academic Libraries in the Niger Delta of Nigeria
The Niger Delta Knowledge Centre is a project undertaken in 2014 by the International
College of Commerce
(ICC) a private education institution based in Amsterdam, the Netherlands. An integral part of ICC's operation is the charitable trust, a trust that initiates, participates and supports life-changing projects in education in diverse parts of West Africa.
"We, the International College of Commerce, believe, the role of education in poverty eradication in close co-operation with other social sectors is crucial to reducing poverty."
By 2013, ICC sponsored an action research which studied various education activities in the Niger Delta region. The findings identified that the education infrastructures in the region are tangled with problems that includes poor funding and infrastructues: little or no academic readers and empty libraries, inadequate classrooms and teaching aids (projectors, computers, and laboratories), and rareness of quality teachers.
Though the issues are clearly defined and can be deducted from the findings; for ICC, a functional library serves as an organisation of knowledge for the efficient retrieval of relevant scholarly and historical information for scholars and practitioners.
Furthermore, it is essential to create an independent knowledge place with systematic and structural support from the European education community. As a direct consequence the 'NDKC' concept was conceived.
No doubt, NDKC is a sustainable and hard-wearing project in education. A project that has found support from well-meaning government universities and establishments in The Netherlands. It accommodates' a major Academic Library which, promotes reading and lifelong learning, a Heritage Centre for the collection and archiving of historical information, and a Conference Center for socio-economic symposia and other informative activities.
The project is expected to enable the connection and expansion of our network of students, tutors, researchers and institutions through our international community programme, and in the final exploration supply the necessary support to the native youths that will help them make concrete changes to their lives and environments.
NDKC services are available to students, tutors, researchers and visitors, but will give special support and scholarship opportunities to those who come from families that traditionally have not had the resources to pursue an advanced education.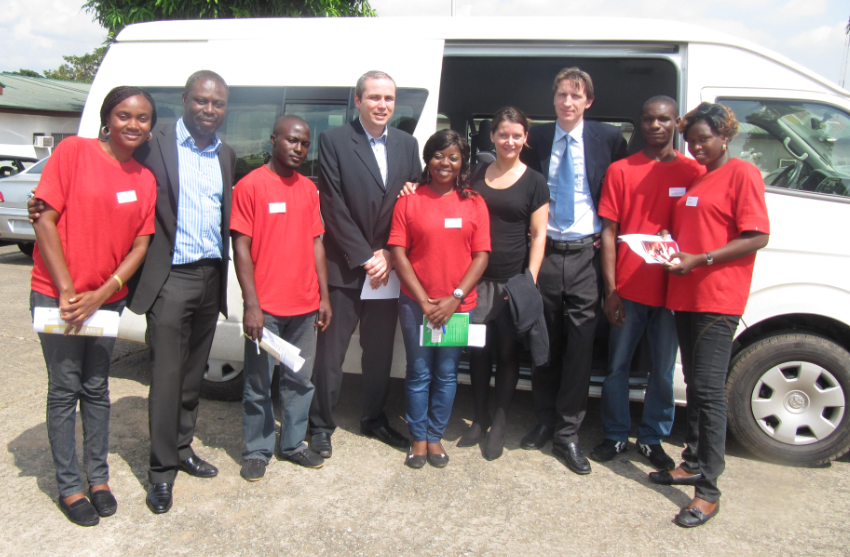 Mission Statement
The Niger Delta Knowledge Centre promotes reading and lifelong learning in the Niger Delta by providing students, teachers and researchers with a knowledge-hub; a hub that.. continue reading
Donate
IBAN: NL43 ABNA 0831 6304 50
BIC: ABNANL2A
att. International College of Commerce
Amsterdam, The Netherlands
Contact Details
Balistraat 27-a
1094JB Amsterdam
The Netherlands
Tel. +31 (0)20-665 4163
Tel. +31 (0)6-5049 2753
Email: info@ndkc.nl
Local Contact
2 Oviawe Close
Off Upper Erumuse
Evwotubu, Benin City
Edo State, Nigeria
Tel. 080-2112 7523
Tel. 080-3409 5086